Venue & Hospitality
Welcome to the Official Attendee Housing Site for the 6th World Congress on Spine and Spinal disorders, that will be held in the beautiful and exciting city of Tokyo, Japan.

Venue: Radisson Hotel Narita 650-35 Nanae Tomisato-Shi, Narita 286-0221 Tokyo, Japan
Conference Dates: October 30-31, 2019
Hotel Services & Amenities
Audio/Visual Equipment Rental.
Business Center.
Business Phone Service.
Complimentary Printing Service.
Express Mail.
Fax.
Meeting Rooms.
Office Rental.
Photo Copying Service.
Secretarial Service.
Telex.
Typewriter.
Video Conference.
Video Messaging.
Video Phone.
ATM.
Baggage Storage.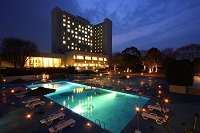 Transportation
Narita International Airport Furugome, Narita, Chiba Prefecture 282-0004, Japan

1. Drive from National Route 295 line to take incense

• Head south-east

• Turn right at Airport East Road 4 (Intersection)

• Turn left towards National Highway 295

• Turn right towards National Highway 295

• Continue onto National Highway 295

2. Continue to Komagawa

• Turn left at Gakka Bridge (intersection)

• Turn right towards City Road Line 44

• Turn left onto City Road Line 44

3. Continue to Fuli City

• Turn left

• Turn left

• Turn right

• Turn left

• Continue straight

• Turn left towards Prefectural Line 106

4. Turn right onto Prefectural Line 106

Destination will be on the left

Radisson Hotel Narita 650-35 Nanae, Tomisato, Chiba Prefecture 286-0221, Japan
About City
Tokyo is regularly alluded to as a city, however is authoritatively referred to and represented as a "Metropolitan prefecture", which contrasts from and joins components of a city and a prefecture, a trademark remarkable to Tokyo.The Izu and Ogasawara Islands are a piece of Tokyo. Tokyo was erst alluded to as Edo, a little palace city inside the sixteenth century. It formally turned into the capital when Emperor Meiji moved his seat to town from the past capital of city in 1868 once it totally was renamed to Tokyo and furthermore includes 2 particular towers: Tokyo Tower and furthermore the new Tokyo Skytree, the tallest pinnacle in Japan and furthermore the second tallest structure inside the world after the Burj Khalifa in Dubai.

Tokyo has a few exhibition halls, which fuses the Tokyo National Museum; the nation's biggest storehouse and represent considerable authority in old Japanese workmanship, the National Museum of Western Art and Ueno Zoo, National Museum of Emerging Science and Innovation in Odaiba, the Edo-Tokyo Museum in Sumida, and so on. Because the biggest populace focus in Japan and furthermore the site of the nation's biggest telecasters and studios. Elective town fascination incorporates Tokyo Disney arrive, Ginza, Meiji Shrine, Ryogoku Kokugikan, Sensoji sanctuary, and so on., Today, Tokyo offers an apparently boundless choice of looking, diversion, culture and sustaining to its visitors. The city's history is regularly refreshing in locale like Asakusa, and in a few wonderful galleries, noteworthy sanctuaries and greenery enclosures. In opposition to regular perception.Tokyo was positioned first in the "Best by and large involvement" class of Trip Advisor's World City Survey (the city likewise positioned first in the accompanying classifications: supportiveness of local people nightlife,shopping. Tokyo is an intriguing city, where the most recent patterns and the most seasoned customs meet. From old cherry-bloom celebrations to the energetic Harajuku neighborhood. Tokyo offers an apparently boundless decision of shopping, amusement, culture to its guests.